The St Mary Magdalene Wartling Songs of Praise Service giving thanks for the 125 years since the Church Organ was installed.
The Church Organ, built by Wm Hill & Son, was inaugurated at a special service on Friday the 26th October 1894, this followed by a celebratory service the following Sunday morning. Frank Beeney, our organist, has been playing this for over 40 years, and both were celebrated at this well-attended service of thanksgiving on the 27th October. Two of the hyms Frank played, 'Angel Voices Ever Singing and 'O praise Ye The Lord' were played at the inauguration service in 1894.
Please click on the images below to enlarge them.
St. Mary's Wartling Plough Sunday Service
Our Plough Sunday Service on January 13th was well attended with framers, plantsmen and plantswomen, smallholders and farmworkers. A plough and tractor were blessed in the churchyard while a milk churn, milking cluster, soil and seeds were blessed in the Church. Images from the event are in gallery form above. Simply click on them to view.

The Herstmonceux and Wartling Combined Churches Christmas Fair was well attended. Our stalls were very busy and the Churches new 'Recipes and Handy Hints' book sold well. The exact amount raised is yet to be totalled, but is so far over £1,300.
At a well attended summer Wartling Church Nature day many people were surprised to learn that even in the area of the churchyard there were more than seventy different species of moths. There were demonstrations of ways to assist the survival of these as well as details of the wild flowers and rare plants in the Churchyard, and the wildlife that is there.
Wartling Church also hosted a Star Gazing event where, despite the hazy cloud conditions, the astrological group present were able to show, through some amazingly powerful telescopes, the close up details of the sky at night in way that the large group that attended had never seem before
Our Herstmonceux Plant Fair, raising funds for All Saints Herstmonceux was a great success. Just click on Gerald's Images below for a seperate presentation.
Both of our Churches are always wonderfully decorated for our services and festivals. Below is a picture of one of the Easter Decorations at the Church of All Saint's Herstmonceux.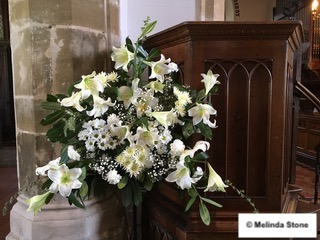 Our Remembrance Sunday Services this year, with a packed congregation of 170+ was at All Saints Herstmonceux, and also at St.Mary Magdalene Wartling, thanks to Farmer and Churchwarden David. The bell there was rung at mid-day as happened 100 years previously to mark the end of WW1. Many locals attended and the names of The Fallen were read out, and, in addition there was an afternoon 'Lost Loved Ones Service' at St Mary Magdalene's.